Daily Kickoff
January 8, 2021
👋 Good Friday morning!
Following Wednesday's insurrection at the Capitol, President Donald Trump has been banned from using Facebook and Instagram for at least the remainder of his presidential term.
After Twitter lifted a lock on Trump's account, the president posted a video acknowledging that "a new administration will be inaugurated on Jan. 20," but stopped short of walking back his false claim that the election was stolen.
U.S. Ambassador to Israel David Friedman offered his first congratulations to President-elect Joe Biden today, and pledged to "humbly offer any assistance that may be requested to aid in transition."
Secretary of Education Betsy DeVos and Secretary of Transportation Elaine Chao resigned from the Cabinet yesterday, both citing the violence at the Capitol.
A series of Trump's prominent allies in the business world, including Blackstone CEO Steve Schwarzman and investor Nelson Peltz, are distancing themselves from the president following this week's events.
In remarks at a Republican National Committee event in Florida last night, former Ambassador to the U.N. Nikki Haley said Trump's "actions since Election Day will be judged harshly by history."
Sheldon Adelson is taking a leave of absence from running Las Vegas Sands as he seeks treatment for non-Hodgkin lymphoma, his office told Jewish Insider on Thursday.
Check outJewish Insider's latest 'Jewish Nielsen' report to see which webcasts people tuned into over the last several weeks.
VIEW FROM JERUSALEM
How Israelis are reckoning with Trump's behavior
As the world reeled from the shocking scenes of violence broadcast from Washington, D.C., on Wednesday, Israelis were glued to news of the unrest with decidedly mixed feelings. Were the events at the Capitol a step too far for even Trump's most devoted Israeli admirers? Jewish Insider's Amy Spiro checked in with a range of Israeli figures to gauge the reaction to this week's chaos.
Impossible dilemma: Former Israeli Ambassador to the U.S. Michael Oren told Jewish Insider that over the past four years, "Israel has faced an impossible dilemma: how to embrace the historic achievements of the Trump White House while disassociating from its incendiary domestic acts." He noted the remarkable timing of this week, during which "at the same time that the administration brokered a treaty between Israel and Sudan, Trump supporters were storming the Capitol." He added: "Israel must welcome the first while deploring the second."
Rethinking: Former Knesset Member Dov Lipman told JI that Israelis were shocked and horrified by the events in Washington this week. "Israelis were very, very clearly very shaken by it," said Lipman, a former member of Yesh Atid. "But I still believe that Israelis are able to make a distinction between that and being thankful for things that Trump has done for Israel." But the American-born Lipman suggested that talk in Israel of naming landmarks after Trump may now dissipate, "because everyone feels that what happened yesterday is such a horrible thing."
Shock and awe: Former Justice Minister Tzipi Livni, whose future political career is the subject of much speculation, tweeted in Hebrew on Wednesday: "it's crazy what is going on right now in the U.S., but the good guys won in a democratic election, and the inconceivable violence of mass incitement will be relegated to history," adding in English: "Democracy will prevail." Former Israeli Consul General to New York Dani Dayan, a past leader of the Yesha Council settler movement, said that the largely symbolic "Trump Heights" settlement established in 2019 continues to be "extremely embarrassing." Dayan admitted that when it came to policy on Israel, "Trump was a diplomatic miracle." But when it comes to American democracy, "not only now but from the beginning [of his candidacy], it has been a train wreck."
It's complicated: Shmuel Rosner, a journalist and New York Timescontributing opinion writer, told JI that "Israelis understand that this was a shameful event — and now must do what people with good sense always do: see that things are complicated, and that a president that was great for Israel is problematic for America." He added: "Leaders aren't black or white, they are often both. I assume most Israelis are mature enough to see this."
I TOLD YOU SO
The Senate sergeant-at-arms proposed a wrought-iron perimeter fence in 2013
In 2013, Terry Gainer, then the Senate sergeant-at-arms, proposed a fence that would wrap around the perimeter of the U.S. Capitol. Needless to say, Gainer's vision — never realized — seems prescient now given the security failures that gave way to pro-Trump insurrectionists who violently stormed the Capitol on Wednesday. "I'll tell you," Gainer told Jewish Insider's Matthew Kassel Thursday, "the cost of not doing it was evident yesterday."
Unique circumstances: In no way was Gainer gloating as he acknowledged, seven years after retiring from his Senate job, the remarkable circumstances that allowed for a ragtag mob of extremists to briefly occupy the halls of Congress. "The size of the department is quite adequate for normal business up there or even for large protests," said Gainer, referring to the Capitol. "But it's less than ideal when you get a few thousand people who come up there and they want to attack when they're so charged up over the rhetoric from the president of the United States."
Glaring flaw: During his tenure in various high-ranking federal law enforcement positions, Gainer, now 73, worked tirelessly to identify security gaps that would leave lawmakers vulnerable to attacks. But it was as sergeant-at-arms between 2007 and 2014 that he and his team members conducted an inventory of the Capitol's security apparatus and identified one glaring flaw. "We still hadn't made the building secure from people wandering through it," he told JI of the moment he realized that a fence would solve their problems. "So we started talking about it."
Rejected outright: The fence was rejected because almost everyone viewed it as too costly, according to Gainer. In addition, the concept of a barrier enclosing the Capitol grounds was off-putting, as it symbolized a heightened security state. "Whenever you bring up the word 'fence,' it's almost an immediate turnoff," said Gainer, adding that his team tried to make the proposal appealing to lawmakers by including detailed annotations of cost projections as well as building materials. Following this week's incursion, a temporary seven-foot fence is now being constructed around the Capitol complex — one Gainer regards as only a provisional corrective.
Surprise scenario: While Gainer believes the Capitol Gateway plan would have blocked armed rioters who broke through several inadequate lines of defense as they forced their way into the halls of Congress, he admits never imagining such a scenario playing out. Even hours before the siege, as would-be rioters formed at a rally outside the White House, Gainer recalled dismissing questions from interviewers who wondered, not without merit, if it was possible to break into the Capitol. "I said, 'No way. No, you can't. No, no, it can't be done,'" Gainer said. "But shame on me."
ON THE HILL
Congressional call to remove Trump from office intensifies
Scores of congressional Democrats and a small number of Republicans are backing an effort to remove President Donald Trump from office after he encouraged supporters to march on the Capitol on Wednesday, reports Jewish Insider's Marc Rod.
25th amendment: By Thursday afternoon, dozens of Democrats and at least two Republican lawmakers had joined the call to remove Trump via the 25th Amendment ― under a never-before-used provision under which the vice president and the Cabinet can declare the president unable to serve ― including House Speaker Nancy Pelosi (D-CA) and Senate Minority Leader Chuck Schumer (D-NY). Some in the Cabinet have reportedly discussed employing the provision, but the gambit is likely to fail, given that Vice President Mike Pence reportedly opposes the move.
Round two: Democratic congressional leaders also threatened to pursue a historic second impeachment of Trump. Dozens of House Democrats have already signed onto articles of impeachment organized by Rep. Ilhan Omar (D-MN), which are backed by Judiciary Committee Chairman Jerry Nadler (D-NY). Omar tweeted Thursday night that she was hoping to introduce the articles as early as Friday, although Rep. Ted Lieu (D-CA), another co-leader of the effort, saidthe goal is Monday.
Turnabout: Two Republican members of the House, Reps. Adam Kinzinger (R-IL) and Steve Stivers (R-OH), have expressed support for invoking the 25th Amendment, as have three Republican governors and Trump's former Chief of Staff John Kelly. Sen. Lindsey Graham (R-SC), once one of the president's closest congressional allies, strongly criticized Trump in a press conference on Wednesday. Graham said that while he opposed invoking the 25th Amendment, "if something else happens, all options would be on the table."
Worthy Reads
🇵🇰 Time to Act: In The Wall Street Journal, columnist Sadanand Dhume urges Pakistan to establish ties with Israel, after the prime minister admitted to being "under pressure" to do so last year. "Pakistan's refusal to recognize Israel is symptomatic of a larger mistake — a foreign policy wedded to an ideology rather than to the well-being of Pakistanis." [WSJ]
🚫 Persona non grata: In Vanity Fair, Emily Jane Fox explored how, after four tumultuous years for Jared Kushner and Ivanka Trump — spotted employing a moving van on Thursday — the events of this week "officially made them radioactive." One former friend of Ivanka said: "The stink of his family is nearly impossible to get off. How do you associate yourself with the worst, most toxic people in U.S. history?" [VanityFair]
💔 Fractured: In The Times of Israel, writer and education Rabbi Elchanan Poupko decried the "political suicide" of America's Orthodox Jewish community. "This kind of blind loyalty to political idols over human decency and in violation to Jews' historic commitment to one another is a low American Jewry has never seen." [TOI]
Around the Web
☢️ Takeover: Prime Minister Benjamin Netanyahu attempted to claim total control of Israel's Iran policy, sparking sharp pushback from Defense Minister Benny Gantz.
💯 World Record: Netanyahu vowed that all Israelis over age 16 will receive a COVID-19 vaccination by March, following a new, accelerated deal with Pfizer.
💉 Shortfall: Vaccination turnout rate is low among Arab Israelis and Palestinians living in east Jerusalem due to skepticism about the shots.
💰 Intervention: Israel's central bank spent an almost-record $4.4 billion on foreign currency in December as part of its latest attempt to slow the rising value of the shekel.
🇮🇱 Not Guilty: An Israeli military investigation determined that IDF soldiers were acting in self-defense when they shot and paralyzed a Palestinian man in the West Bank last week.
🔍 Disclosures: Alejandro Mayorkas, Biden's nominee for secretary of Homeland Security, has disclosed earnings of more than $3.3 million as a corporate lawyer for a variety of companies.
📸 On Camera: Aaron Mostofsky, the son of Brooklyn Supreme Court Judge and former National Council of Young Israel President Shlomo Mostofsky, was identified as one of the pro-Trump rioters who broke into the Capitol on Wednesday.
🎓 Campus Beat: Tulane University has received a $1 million donation and a $1 million matching grant for its Jewish studies department from a foundation headed by philanthropist Jennifer Pritzker.
🩺 Acquisition: David Rubenstein's Carlyle Group will acquire Rigaku, a company that manufactures X-ray equipment.
🎙️ Podcast Playback: Investment banker Aryeh Bourkoff spoke to Variety's Strictly Business podcast about his goals for the media industry.
💵 Big Bet: Former Disney CEO Michael Eisner is backing Struum, a startup that seeks to bring together small, niche streaming services.
📺 Small Screen: Deutsche Welle will offer five on-demand programs with Hebrew subtitles for Israeli audiences.
📰 Media Watch: Reuters editor-in-chief Steve Adler is retiring from the news agency after a decade at the helm.
Pic of the Day
A billboard in central Tel Aviv calls for people to wear masks on the first day of Israel's new severe COVID-19 restrictions.
Birthdays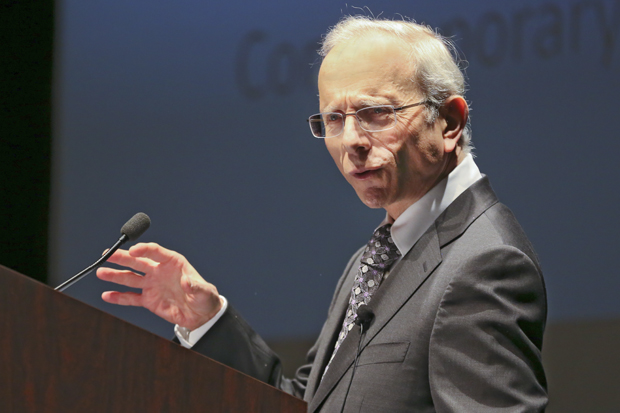 Professor of American Jewish history at Brandeis University, Jonathan D. Sarna turns 66 on Sunday…
FRIDAY: Actor and comedian, Larry Storch turns 98… Talmudic scholar and leader in Bnei Brak, Israel, Rabbi Chaim Kanievsky turns 93… Classical pianist, Vladimir Feltsman turns 69… Founder and chief investment officer of Pzena Investment Management, Richard "Rich" Pzena turns 62… Co-founder and co-owner of Pizza Shuttle in Milwaukee, Wisconsin, Mark Gold turns 58… VP of wealth management at GCG Financial in Deerfield, Illi., he was an NFL tight end for the Bears and Vikings (1988-1994), Brent Novoselsky turns 55… Founder and president of DC-based Professionals in the City, Michael Karlan turns 53… Lobbyist and patron of contemporary art, Heather Miller Podesta turns 51… Former state senator in Maine (2008-2016), Justin Loring Alfond turns 46… Singer-songwriter, Jenny Lewis turns 45… Public policy program manager for Facebook, Avra Siegel turns 39… Former deputy editor of Newsweek, Ross M. Schneiderman turns 39… Actor and director, Sam Levinson turns 36…
SATURDAY: Law professor at Georgetown University and a founder of New Israel Fund, Peter Edelman turns 83… Swiss politician and president of the Swiss Confederation in 1999, Ruth Dreifuss turns 81… Rabbi emeritus of Kehilath Israel Synagogue in Overland Park, Kansas, Herbert Jay Mandl turns 76… Vice chairman of the private equity firm Gilbert Global Equity Partners, Steven Kotler turns 74… Pulitzer Prize-winning reporter for The New York Times for 40 years, now a research scholar at Yale Law School, Linda Greenhouse turns 74… Former MLB umpire (1976-2001) he worked in 3,392 major league games in his 26 year career, Al Clark turns 73… Presidential historian, Alvin S. Felzenberg turns 72… Singer by the name of "Country Yossi," Yossi Toiv turns 72…
Australian author of more than 40 books of children's and young adult fiction, Morris Gleitzman turns 68… Former Governor of the Bank of Israel, Karnit Flug turns 66… NYC-based investment banker, Joel Darren Plasco turns 50… Reporter for the NFL Network, Ian Rapoport turns 41… Film producer and the founder and CEO of Skydance Media, David Ellison turns 38… Director of development and community relations at Manhattan Day School, Allison Liebman Rubin turns 34… Former contestant on the third season of NBC's "The Voice," now a staff writer at The New Yorker, Ben Taub turns 30… Strategic growth manager at Compass, Madeline Peterson turns 29… Actress, she starred in 2014's "Transformers: Age of Extinction," Nicola Peltz turns 26… Montgomery County, Md., councilmember, Andrew Friedson…
SUNDAY: Founder of the Center for Research on Institutions and Social Policy, Adam Walinsky turns 84… Conservative columnist, David Joel Horowitz turns 82… Executive editor of Denver's Intermountain Jewish News, Rabbi Hillel Goldberg, Ph.D. turns 75… Professor at Brandeis University since 2018, he was president of the Combined Jewish Philanthropies of Greater Boston for 30 years before that, Barry Shrage turns 74… Former president of the Supreme Court of the United Kingdom, Baron David Edmond Neuberger turns 73… Musician, singer-songwriter and co-founder of the Rock and Roll Hall of Fame band "Steely Dan," Donald Fagen turns 73… Riga, Latvia-born, world-renowned cellist, Mischa Maisky turns 73… U.S. Senator Roy Blunt (R-MO) turns 71… Long-time editor at Bantam Books, Simon & Schuster and Crown Publishers, Sydny Weinberg Miner turns 70… Retired executive director at Beta Alpha Psi, Hadassah (Dassie) Baum turns 70… Founder and CEO at Los Angeles-based Quantifiable Media, Rose Kemps turns 70…
Senior scholar for religious freedom at the Freedom Forum Institute, Richard Thomas Foltin turns 69… Partner at Kleiner Perkins Caufield & Byers and the majority owner of the NBA's Golden State Warriors, Joe Lacob turns 65… Israel's deputy minister of Transportation and Road Safety, Uri Maklev turns 64… U.S. Senator Chris Van Hollen (D-MD) turns 62… Actor and author of two books on his recovery from acute myeloid leukemia, Evan Handler turns 60… Board member of the Jewish Federation of Greater Naples, Beth Ellen Wolff turns 59… Author and journalist best known for his novels Gangster Nation, Gangsterland and Living Dead Girl, Tod Goldberg turns 50… Caryn Beth Lazaroff Gold turns 43… White House senior advisor, Jared Kushner turns 40… Advisor and speechwriting director for Majority Leader Steny Hoyer (D-MD), Adam David Weissmann turns 38… Deputy director of events and ceremonies for the Biden Inaugural Committee, Morgan Aubrey Finkelstein turns 30… Andrew Tobin… Debbie Seiden…