biden briefing
Israel's war cabinet tells Biden that ground invasion of Gaza is imminent
Biden: 'Justice must be done, but I caution this: While you feel that rage, don't be consumed by it.'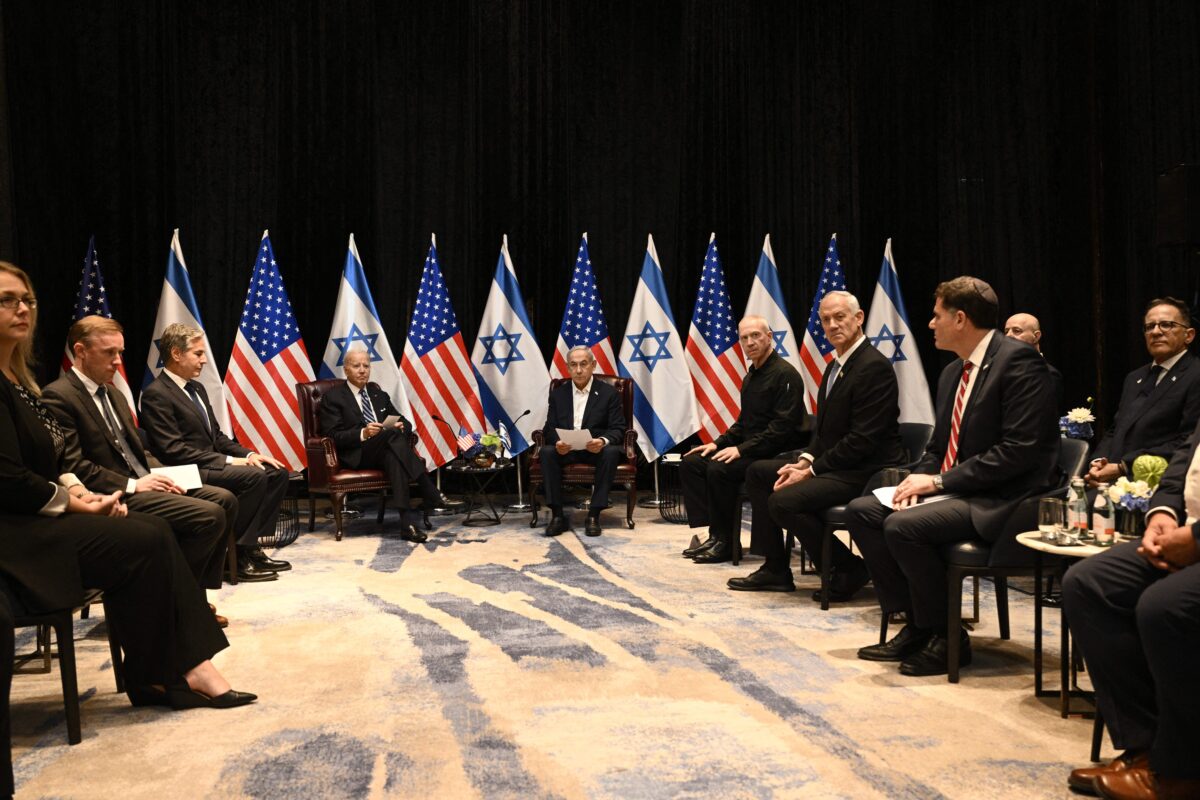 BRENDAN SMIALOWSKI/AFP via Getty Images
Israel's war cabinet made it clear to President Joe Biden that a ground incursion into Gaza is looming, as he took part in a meeting with Israeli ministers at the Defense Ministry headquarters in Tel Aviv on Wednesday.
Netanyahu and the Israeli ministers told Biden that a ground maneuver could not be avoided and that there will be a long war, a source in the meeting told Jewish Insider, confirming reporting in the Hebrew media. Some of the ministers called this war "existential."
If Israel's victory over Hamas is not total, its strategic standing in the Middle East and deterrence against its enemies will be significantly damaged, the Israeli source said. Ministers also argued that Saudi Arabia may no longer want to normalize relations with Israel if the Jewish state appears weak.
In Biden's meeting with the war cabinet, he asked Israel to limit the war to Gaza and told the ministers to consider what will happen in Gaza if Hamas is fully dismantled.
Publicly, Biden's message of support was steadfast. In a speech before he departed Tel Aviv, the president said he came to Israel with "a single message: You're not alone." Biden is slated to address the American public about his administration's response to Hamas' terrorism against Israel — and Russia's war in Ukraine — in a primetime speech on Thursday evening.
In his 15-minute address in Israel, Biden described Washington's enduring commitment to Israel's security and spoke soberly of the grief that the survivors of the Hamas massacre face, "staring at an empty chair, sitting shiva, the first Sabbath without them."
Oct. 7 was the deadliest day for the global Jewish community since the Holocaust, Biden noted.
"It has brought to the surface painful memories and scars left by millennia of antisemitism and the genocide of the Jewish people," Biden said in Tel Aviv. "The world watched then. It knew. And it did nothing. We will not stand by and do nothing again. Not today, not tomorrow, not ever."
Biden also relayed a demand shared by the U.S. and Israel: that the Red Cross must be allowed to visit the hostages in Gaza.
The wartime cabinet and American delegation also discussed the possibility of sending humanitarian aid to Gaza. The Israeli Prime Minister's Office announced that it will not allow any such assistance to enter the Gaza Strip from Israel so long as the hostages are not returned.
However, Israel will not prevent Egypt from allowing aid — limited to food, water and medicine for civilians evacuating to southern Gaza — into the enclave. Israel will stop any aid from reaching Hamas, the PMO stated.
Up to 20 trucks of humanitarian assistance will now enter Gaza daily through the Rafah gate via Egypt, according to an agreement Biden reached with Egyptian President Abdel Fattah El-Sisi. "He stepped up, as did Bibi," Biden said of Sisi in a conversation with reporters on Wednesday night on Air Force One. Netanyahu has not pushed back on Washington's request for greater humanitarian assistance to Gaza, Biden added.
"If Hamas confiscates them or doesn't let it get through," Biden continued, "then it's going to end."
Biden announced on Wednesday that Washington will provide $100 million in humanitarian assistance for Palestinians in Gaza and the West Bank. The funding will "support more than one million displaced and conflict-affected Palestinians, including emergency needs in Gaza," Biden said.
The U.S. wants southern Gaza to be a humanitarian safe zone, the source in the war cabinet meeting said – something that Israel would be willing to allow, National Security Council Director Tzachi Hanegbi said ahead of Biden's visit.
Biden issued a plea for Israel to consider the humanitarian catastrophe in Gaza, even as he condemned Hamas for using "innocent families in Gaza as human shields, putting their command centers and their weapons, communications tunnels, in residential areas."
"You are a Jewish state. But you're also a democracy. Like the United States, you don't live by the rules of terrorists. You live by the rule of law," Biden continued. "What sets us apart from the terrorists is we believe in the fundamental dignity of every human life: Israeli, Palestinian, Arab, Jew, Muslim, Christian, everyone. You can't give up what makes you who you are. If you give that up, then the terrorists win, and we can never let them win."
He urged Israel not to be overcome by a desire for vengeance in the way some in America were after the Sept. 11, 2001, terrorist attacks.
"Justice must be done, but I caution this: While you feel that rage, don't be consumed by it. After 9/11, we were enraged in the United States. While we sought justice and got justice, we also made mistakes."
Israel's war cabinet was established last week when Netanyahu and Benny Gantz, who leads the National Unity party, reached an agreement to establish an emergency unity government. The third member of the war cabinet is Israeli Defense Minister Yoav Gallant, while Strategic Affairs Minister Ron Dermer, former IDF Chief of Staff Minister Gadi Eisenkot are observers.
Also in the meeting were Hanegbi, MK Aryeh Deri, the prime minister's chief of staff, Tzachi Braverman; Military Secretary Maj.-Gen. Avi Gil and Israeli Ambassador to the U.S. Mike Herzog. On the American side were Biden, Secretary of State Tony Blinken, National Security Adviser Jake Sullivan, National Security Council Coordinator for the Middle East and North Africa Brett McGurk and Stephanie Hallett,
Ahead of the cabinet meeting, Netanyahu said that "this will be a different kind of war because Hamas is a different kind of enemy."
"Every day, they perpetrate a double war crime: targeting our civilians while hiding behind their civilians, embedding themselves in the civilian population, and using them as human shields," the prime minister stated.
The explosion in the Al-Ahli Baptist Hospital in Gaza caused by a rocket misfired by Palestinian terrorists on Tuesday night is an example of such a war crime, Netanyahu said.
"The entire world was rightfully outraged but this outrage should be directed not at Israel but at the terrorists," he said.
Many international media outlets quickly, and mistakenly, reported that the hospital had been hit by an Israeli rocket. Israeli military and intelligence officials have since concluded that the explosion was caused by an Islamic Jihad rocket misfire. The U.S. National Security Council on Wednesday agreed that Israel was not responsible for the attack.
"It's not the first time Hamas has launched something that didn't function very well. So I don't know all the details but I do know the people at the Defense Department who I respect and the intelligence community that I respect [say it] is highly improbable that Israel did that," Biden said Wednesday night on his way back to Washington.
"If you notice," he added, "I didn't say it at first. I didn't — I wanted to make sure that I knew. "
Netanyahu thanked Biden for "the depth and breadth of cooperation that we have had since the beginning of this war, a level of cooperation that is truly unprecedented in the history of the great alliance between our two nations."
Biden met with several Israelis directly impacted by the Hamas attack on Oct. 7.
"I've admired you all, this country, for so long," he told the group of 14 Israeli citizens. "I'm convinced that the more people know your responses to what's happening as opposed to just what war and peace is about, the more they're going to be inclined to embrace Israel."
Among the attendees of the meeting with Biden was Rachel Edri, who has become famous in Israel for successfully stalling Hamas terrorists in her home by offering them cookies and other food until her police officer son, Evyatar Edri, who also attended the meeting with the president, could free his parents together with a SWAT team.
Rachel Edri told Israeli media after the meeting that Biden "shook everyone's hand, and when he reached me, he kissed me on the head. I was very emotional. He said that he will help us eliminate Hamas. I told him that our police officers are the best; they saved me."