Daily Kickoff
November 1, 2023
Good Wednesday morning.
In today's Daily Kickoff, we report on the state of Israel's relationships with Russia and China, and look at how the recent surge in antisemitism at the university level is affecting how Jewish high school seniors are selecting where to go to college. Also in today's Daily Kickoff: Jay Sures, Ali Al Nuaimi and Gov. Kathy Hochul.
The Senate voted 53-43 on Tuesday to confirm Jack Lew as the U.S. ambassador to Israel, Jewish Insider's Capitol Hill reporter Marc Rod reports. Sens. Rand Paul (R-KY) and Lindsey Graham (R-SC) voted with Democrats to approve Lew's nomination — a rare alliance from one of the Senate's most isolationist Republicans and one of its most hawkish.
Grahamsaid that"there are legitimate concerns about Mr. Lew" but the U.S. needs to "immediately have an ambassador" and that Israeli leaders "both knew and were comfortable with Mr. Lew serving in this position."
Secretary of State Tony Blinken is slated to travel to Israel on Friday, his third trip to the country following the Oct. 7 Hamas attacks, JI Executive Editor Melissa Weiss reports. Blinken's trip comes days after the IDF conducted an operation in Jabalya, north of Gaza City, on Tuesday, killing Hamas commander Ibrahim Biari, a key figure in the planning of the Oct. 7 attacks. The IDF said troops killed some 50 terrorists in yesterday's ground operations, which saw significant Palestinian casualties. The army said 13 Israeli soldiers were killed fighting in Gaza in the past day.
In a Washington Post op-ed published yesterday afternoon, Blinken reiterated both the Biden administration's support for Israel and its calls for humanitarian assistance to be administered to Palestinians in Gaza — and a plea for Congress to pass a supplemental funding package that would send aid to Israel, Ukraine and Palestinians in Gaza.
"From the moment Hamas slaughtered more than 1,400 people in Israel, including at least 35 U.S. citizens, and took more than 230 hostages, President Biden has consistently affirmed Israel's right — indeed, its obligation — to defend itself and prevent Hamas from carrying out such an attack ever again," Blinken wrote. "The president has made clear that the United States will ensure Israel has what it needs to defend its people against all threats, including from Iran and its proxy groups."
"As with civilians in any conflict, the lives of Palestinian civilians must be protected," Blinken wrote. "That means the flow of food, water, medicine, fuel and other essential humanitarian aid into Gaza must increase — immediately and significantly. It means Palestinian civilians must be able to stay out of harm's way. It means every possible precaution must be taken to safeguard humanitarian sites. And it means humanitarian pauses must be considered for these purposes."
Blinken warned that without aid, "the conflict is much more likely to spread, suffering will grow, and Hamas and its sponsors will benefit by fashioning themselves as saviors amid the very desperation they created."
Reports emerged earlier today that Qatar brokered an agreement with Israel, Egypt and Hamas to allow some evacuations from Gaza. The evacuees would be limited to foreign passport holders and seriously ill individuals; footage taken earlier today from the Egyptian side of the Rafah border crossing with Gaza showed injured Palestinians leaving the enclave.
Blinken told Senate Appropriations Committee members on Tuesday that approximately 1,000 Americans and their family members have been unable to leave the Gaza Strip. (More below on Blinken's appearance on Capitol Hill.) On Sunday, National Security Advisor Jake Sullivan told CNN's Jake Tapper that Hamas was "preventing their departure and making a series of demands."
At yesterday's White House press briefing, National Security Council Coordinator John Kirby addressed questions about evacuating Americans from Gaza. "Beyond putting the blame on Hamas," a reporter asked Kirby, "what more can you say about what's going on here and what the progress is?"
"How about if I just put the blame on Hamas?" Kirby responded, adding that the terror group was "putting obstacles up to allow us to get folks out. It's not Israel. It's not Egypt. It's not places like Jordan. Hamas has been making it difficult to do this."
fair-weather friends
Israel learns the hard way that Russia, China are not its friends
Israel's close alliance with the U.S., and the West more broadly, has proven its worth in recent weeks, with American aid arriving in Israel and aircraft carriers in the region, plus a long list of Western leaders visiting Israel to demonstrate solidarity. They have been treating the Jewish state like the new Ukraine, a symbol of Western unity and determination, and affirming that Israel is a close ally. Not so Russia and China. As Len Khodorkovsky, a deputy assistant secretary of state in the Trump administration who dealt with Iran sanctions and issues relating to China, told Jewish Insider's Lahav Harkov: "Israel tried to have it both ways: reap the benefits of its friendships with the U.S. and the West while flirting with Russia and China. But when you're down, you find out who your true friends are. Democracies are standing by Israel's side. Autocracies are supporting Israel's enemies."
Different blocs: The Atlantic Council's Ksenia Svetlova, a senior research nonresident fellow at the Washington, D.C.-based think tank, told JI that Israel's attempt to "satisfy both sides" during the Ukraine war was a failure. It should be "totally clear that Israel and Russia are in totally different blocs," she said, with Russia forming a bloc of "rejects" with Iran, North Korea and Belarus, as well as close ties with Hezbollah and Hamas. Hamas is not on Russia's list of terrorist organizations and there have been close relations between them since 2006. As such, Svetlova said, "Don't be surprised that they watched the terrible massacre and refused to condemn it." In addition, Russian officers fought alongside Hezbollah terrorists in Syria. "What did we think, that the coordination would stop?" Svetlova said.
Policy failure: Carice Witte, executive director of SIGNAL Group, an Israeli policy and organization specializing in China-Israel affairs, lamented to JI that experts are not formulating Jerusalem's policy towards Beijing. "Without understanding China's thinking, it is impossible to deal with it effectively," she said. "We now see that in neon lights with the way China is addressing this issue. Israel has shied away from formulating an official policy on China. Something as narrow as economic growth is not really a policy. Everyone wants good economic development with China, even America."
college considerations
Campus safety now a top priority for Jewish students choosing colleges
Rachel Tulman, a senior at Scheck Hillel Community School in Miami, has had Nov. 1 — early decision deadline for most college applications — marked on her calendar for months. She worked hard for the last three years so that she could apply early to an Ivy League university. Now, that won't be happening. "I was going to ED [early decision] to Cornell or UPenn. But then I went to visit the UPenn campus, and I saw people ripping down the missing hostages posters," said Tulman. "I just couldn't bind myself [to the University of Pennsylvania]." Tulman is one of countless Jewish American high school seniors who are now confronted with a startling rise in antisemitism on college campuses at exactly the time that they must decide which university to attend for the next four years, reports Jewish Insider's Gabby Deutch.
New questions: An unprecedented wave of antisemitism has swelled over the past three weeks, beginning after Hamas' Oct. 7 terrorist attacks in Israel. Campuses have seen professors praising the Hamas attack, physical assaults on Jewish students and equivocation by university administrators. Over the weekend, the kosher dining hall at Cornell was put on lockdown after detailed, murderous threats made against Cornell Jewish students. Jewish parents and their high school-aged children are grappling with a new set of considerations as they make what is already a weighty decision: Will this school be safe for my child?
Red lines: Some parents are setting red lines. Dan Brosgol has told his son, a high school senior, that he cannot apply to Tulane, in New Orleans, after three Jewish students were attacked last week when they were counter-protesting a pro-Palestine rally. "I wouldn't want to spend my money to pay for my kid to go to school, and make that investment in the place where I feel like he wouldn't be comfortable being Jewish in a way that I would want him to be, and he probably wants to be also," said Brosgol, who is the executive director of a synagogue in Wayland, Mass. "Rankings be damned, I want a place where he's going to be safe."
News roundup: The Washington Post and Fox News talk to Jewish students about the antisemitism they've experienced on campus in the weeks since the Oct. 7 terror attacks.
terrorism tracking
Virginia's attorney general launches investigation into pro-Hamas campus group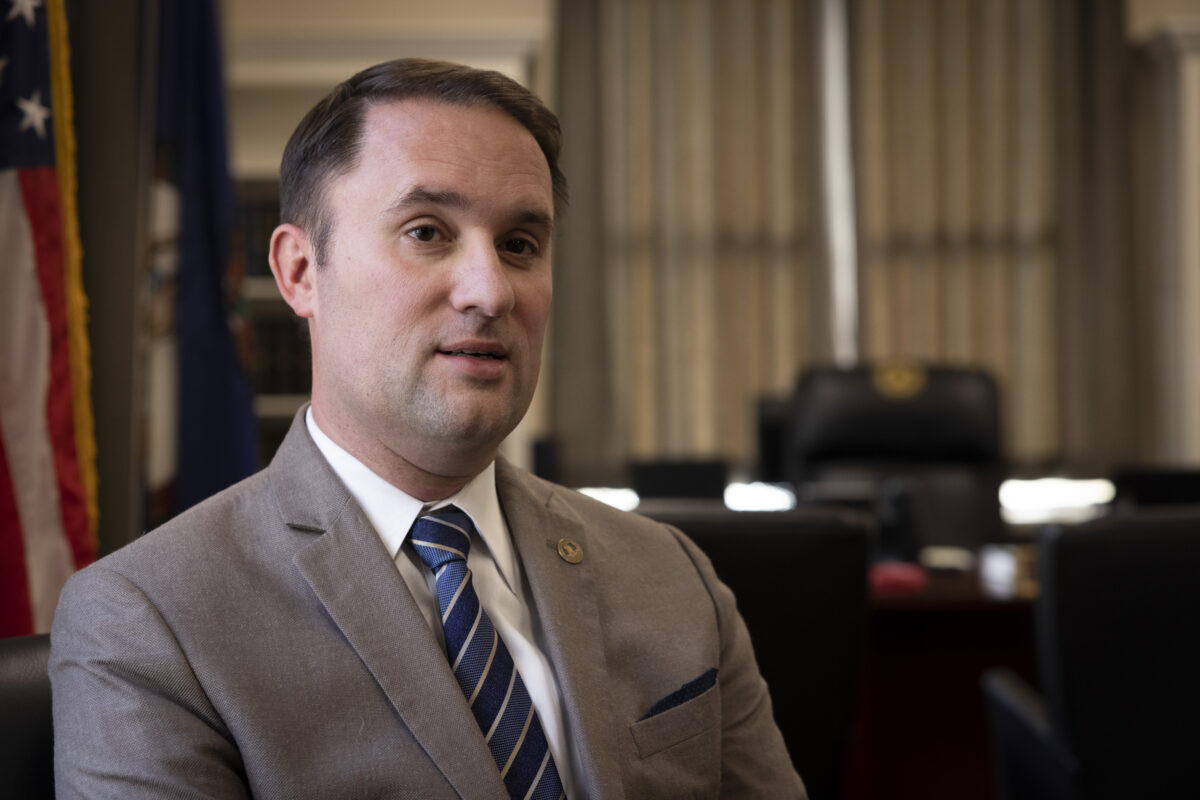 As the Israel-Hamas war continues to roil U.S. college campuses, Virginia on Tuesday became the second state to target a group affiliated with Students for Justice in Palestine – a move that comes shortly after Florida Gov. Ron DeSantis outlawed SJP at public universities. Announcing a charities fraud probe, Virginia Attorney General Jason Miyares wrote Tuesday on X, "My office has launched an investigation into the nonprofit American Muslims for Palestine for fundraising without proper registration and for potentially violating Virginia's charitable solicitation laws, including benefitting or providing support to terrorist organizations," eJewishPhilanthropy's Haley Cohen reports for Jewish Insider.
Allegations: "The Attorney General's Office has reason to believe that the organization may be soliciting contributions in the Commonwealth without first having registered with the Commissioner of the Virginia Department of Agriculture and Consumer Services," Miyares' office said in a statement. "In addition, the Attorney General will investigate allegations that the organization may have used funds raised for impermissible purposes under state law, including benefitting or providing support to terrorist organizations."
Background: The allegations refer to the caseBoim v. American Muslims for Palestine, in which 17-year-old David Boim was shot and killed in 1996 by Hamas terrorists while studying abroad in Israel. Under the federal Anti-Terrorism Act, his parents sued several U.S. nonprofit organizations for their role in funding Hamas. After many of the organizations were shut down, a judge ruled in 2004 that the Boims could collect a $52 million judgment from the Islamic Association for Palestine (IAP) and the Holy Land Foundation. The case reopened last year when a judge in Illinois ruled that the case against AMP, Americans for Justice in Palestine (AJP) and Rafeeq Jaber, a former president of both the American Muslim Society and the Islamic Association for Palestine, could proceed.
And in Washington: Sen. Jacky Rosen (D-NV) wrote to the Department of Education asking that the department convene a task force for fighting campus antisemitism, to be led by a designated official, issue updated guidance to school administrators that "makes clear that higher education institutions failing to ensure the safety of Jewish students will face consequences" and convene a meeting with campus administrators, law enforcement, Jewish students and Jewish organizations. "Let's be clear, we're not going to allow Jewish students to end up locking themselves in libraries, or when there's threats of burning down a Hillel, or locking students in their dorm. This is unacceptable," Rosen told JI on a press call yesterday. "And our universities have to be held accountable for keeping Jewish students safe and all students safe."
homeland security
Mayorkas and Wray warn of significant increase in antisemitic homeland threats
Top homeland security officials told lawmakers yesterday that the Oct. 7 Hamas attacks on Israel have increased the threat of terror attacks against Americans at home, with the threat to the Jewish community rising to "historic levels," Jewish Insider's Marc Rod reports.
Multidirectional: "The Jewish community is targeted by terrorists really across the spectrum: homegrown violent extremists, foreign terrorist organizations, both Sunni and Shia, domestic violent extremists," FBI Director Christopher Wray said in testimony to the Senate Homeland Security and Governmental Affairs Committee. "And when you look at a group that makes up 2.4%, roughly, of the American population, it should be jarring for everyone that that same population accounts for something like 60% of all religious-based hate crimes, and so they need our help."
Rising threat level: Wray noted that since Oct. 7, foreign terrorist organizations like Al-Qaida and ISIS specifically called attacks against Jewish communities. He predicted that the Oct. 7 attack would "serve as an inspiration [for terrorism] the likes of which we haven't seen since ISIS launched its so-called caliphate several years ago."
Campus focus: Homeland Security Secretary Alejandro Mayorkas indicated that DHS is paying additional attention to threats to Jewish students. In a change from a usual line, Mayorkas mentioned that DHS is sharing intelligence and information with campus security forces, in addition to the state, local and tribal agencies with which DHS frequently works. "I have spoken with a number of leaders of colleges and universities with respect to their need to take leadership and to ensure the safety and security of students," Mayorkas said.
the administration's case
Blinken, Austin defend Biden's foreign aid request on Capitol Hill
As House Republicans move forward with a plan to split up President Joe Biden's proposed aid package to Israel, Ukraine, the Indo-Pacific and the Palestinians, Secretary of State Tony Blinken and Secretary of Defense Lloyd Austin came to Capitol Hill on Tuesday to argue the administration's case for the full funding bill, Jewish Insider's Marc Rod reports.
Putting them together: "It's important to understand that the elements of this request work together as a package," Blinken said, referencing their implications for defense industrial production. "For our adversaries… this is all one fight. And we have to respond in a way that recognizes that. If we start to peel off pieces of this package, they'll see that. They'll understand that we are playing whack-a-mole, while they cooperate increasingly and pose an ever-greater threat to our security as well as that of our partners."
Humanitarian aid: The administration officials also defended the administration's request for humanitarian aid to the Palestinians, describing it as a matter of life and death in Gaza, as well as a strategic necessity for Israel and the U.S. Asked repeatedly, Blinken would not guarantee that no U.S. taxpayer funds had or would benefit Hamas. "What I guarantee is that we take every possible precaution to ensure that these resources are not diverted," he said.
Vote no: On the other side of the Capitol, House Republicans' proposed funding bill, which would also cut funding from the IRS, continues to split the Congress. House Democratic leadership is urging Democrats to vote against the bill, calling it a "cynical ploy" that "presents a false choice meant to ensure that wealthy tax cheats and corporations pay their fair share and funds to help our ally Israel defend itself" that would increase the deficit. Democrats said they expect the White House to say it would veto the GOP bill.
On the schedule: Democrats are urging their members to vote against a measure tonight by Rep. Marjorie Taylor Greene (R-GA) to censure Rep. Rashida Tlaib (D-MI), calling it "an extreme, disingenuous and clearly partisan ploy." The House is also set to vote tonight on censuring Greene, expelling Rep. George Santos (R-NY), adding new sanctions on Hamasand Iran, auditing Palestinian school curricula, opposing Iran's nuclear program, condemning support for terrorist groups on college campuses and urging the European Union to fully designate Hezbollah as a terrorist group.
Worthy Reads
Beating Back Barbarism: In The Wall Street Journal, Israeli Prime Minister Benjamin Netanyahu explains why the Israel-Hamas war has global implications. "Until recently, many believed that the promise of progress in the 21st century would enable us to move beyond the barbaric horrors of the past toward a brilliant future — that we could go about our comfortable lives and that evil will simply pass us. It will not. The horrors that Hamas perpetrated on Oct. 7 remind us that we won't realize the promise of a better future unless we, the civilized world, are willing to fight the barbarians. The barbarians are willing to fight us, and their goal is clear: Shatter that promising future, destroy all that we cherish, and usher in a world of fear and darkness.… The Book of Ecclesiastes says that there is a time for peace and a time for war. This is a time for war — a war for our common future. Today we draw a line between civilization and barbarism. It is a time for everyone to decide where they stand. Israel will stand against the forces of barbarism until victory. I hope and pray that civilized nations everywhere will back this fight. Because Israel's fight is your fight. If Hamas and Iran's axis of evil win, you will be their next target. That's why Israel's victory will be your victory." [WSJ]
The Proxy War: Washington Post columnist Max Boot considers how Iran is strategically deploying its proxies across the Middle East — and what can be done to stop it. "So Iran has effectively deterred the United States and even Israel from going to war over its sponsorship of terrorism — or over its nuclear program. That leaves the West reliant on other methods of trying to counter Iran's proxy warfare…. More broadly, the United States has tried to build a coalition to contain Iran by fostering links between Israel and the Gulf Arab states. The Trump administration succeeded in brokering the Abraham Accords normalizing relations between Israel and Bahrain and the United Arab Emirates, and Biden's foreign policy team was well on its way to achieving a similar diplomatic understanding between Israel and Saudi Arabia before the Oct. 7 attack. None of these approaches has succeeded in stopping Iran's fiendishly clever proxy strategy, but I don't see any better alternative on the horizon. We can hope that the Iranian people will overthrow the mullahs, and we can cheer them on, but there is no indication that the U.S. government has any power to hasten the fall of a tyrannical regime that has withstood many popular protests over the years." [WashPost]

The Politics of Progressivism: The New York Times' Ross Douthat looks at how the progressive and centrist worldviews have evolved regarding Israel following the Oct. 7 attacks and the ensuing Israel-Hamas war. "Nobody who has lived through the last decade's Great Awokening should be surprised that Western progressivism now has a more radical line on Israel than it did 10 or 15 years ago, especially given Israel's own rightward shift in that same time. But the extent to which the rhetoric of 'decolonization' turns out to naturally extend — or, maybe, naturally circle back — from cultural and psychological projects to literal support for armed struggle and tacit apologia for antisemitic terror still feels like an important unveiling, a revelation of radicalization's implications, a doorway into a future much more violently divided than our own…. The recent protests in European capitals, especially, are less an extension of a radicalized progressivism than a straightforward expression of ethnic and religious solidarity with the Palestinians on the part of Middle Eastern immigrants and their descendants. And the tacit alliance between this diaspora and a secular, feminist, gay-affirming Western progressivism — 'Islamo-gauchisme' in the French phrase — raises big questions for both progressives and conservative Muslims about who is using whom, and how the Western left and Western Islam might ultimately co-evolve." [NYTimes]
Around the Web
Lone Granger: Rep. Kay Granger (R-TX) will reportedly not seek reelection to a 15th term next year.
Pulling Funds: The Ford Foundation is severing ties with an organization linked to the People's Front for the Liberation of Palestine terror group to which it had previously donated a cumulative $54,000 over three years.
UTA Take: United Talent Agency Vice Chairman Jay Sures, a member of the University of California's Board of Regents, wrote a letter responding to a group of ethnic studies faculty angry that the UC system denounced the Oct. 7 Hamas terror attack, calling the faculty response "appalling and repugnant."
No Backtracking: Hedayah​​ Chairman Ali Al Nuaimi, a member of the UAE Federal National Council for the Emirate of Abu Dhabi, confirmed that the United Arab Emirates will not sever ties with Israel over its war with Hamas, saying that the Abraham Accords "are our future" and describing the agreements as "a platform that we believe should transform the region where everyone will enjoy security, stability and prosperity."
CUNY Probe: New York Gov. Kathy Hochul announced an independent probe into antisemitism at CUNY schools.
Cornell Arrest: A junior at Cornell University was arrested and charged with making threats to Jewish students at Cornell as well as the school's Jewish life center.
Designer Ditched: Net-a-porter suspended products from Dodo Bar Or after the Israeli designer posted a video on social media equating the Muslim call to prayer to terrorism.
Having Pius' Ear: Records contained in recently opened Vatican archives indicate that a top papal aide who harbored antisemitic beliefs wielded significant power over the Holy See's policies toward Jews and the Nazis under Pope Pius XII.
Severing Ties: Bolivia severed diplomatic ties with Israel — a move Jerusalem said was a capitulation to "terror" — amid the military escalation between Israel and Hamas; La Paz previously severed ties with Israel in 2009 but restored them in 2020.
Out of Work: WeWork is planning to file for Chapter 11 bankruptcy as soon as next week.
Miami Nice: New York developer Miki Naftali launched his first project in South Florida, a decade after relocating to Miami.
Book Review: Rabbi Meir Soloveichik reviewed Dan Senor and Saul Singer's new book, The Genius of Israel: The Surprising Resilience of a Divided Nation in a Turbulent World.
Series Review: The Wall Street Journalreviewed the Netflix adaptation of the WWII novel All The Light We Cannot See.
The Nazi Loot Hunter: The New York Timesspotlights geneticist Dr. Michael Hayden, who for the last 20 years has worked to track down the silver Judaica stolen from his grandparents on Kristallnacht.
And Then There Was One: Australia withdrew from contention to host the 2034 World Cup, leaving Saudi Arabia as the only remaining candidate; a final decision is expected to be fully ratified next fall.
Transition: Jenn Miller is now a legislative assistant covering foreign policy for Rep. Lois Frankel (D-FL). She was previously a legislative assistant for Rep. Josh Gottheimer (D-NJ) and is an Israel Policy Forum alum.
Pic of the Day
Members of the Jewish community in Paris and relatives of hostages (front row) take part in an event at the Great Synagogue of Paris on Tuesday calling for the release of the hostages held by Hamas terrorists.
Birthdays
French economic and social theorist, he is the author of The Economic History of the Jewish People, Jacques Attali turns 80…
Rabbi-in-residence of Baltimore's Beth Tfiloh Congregation after more than 43 years as senior rabbi, Mitchell Wohlberg turns 79… Country singer, songwriter, novelist and humorist, Richard Samet "Kinky" Friedman turns 79… Pioneering investor in the personal computing industry, founder of Lotus and co-founder of the Electronic Frontier Foundation, Mitch Kapor turns 73… Founding rabbi, now emeritus, at Beit T'Shuvah, a nonprofit Jewish addiction treatment center and synagogue community in Los Angeles, Mark Borovitz turns 72… Retired management analyst at the U.S. Department of Energy, Les Novitsky… Serial entrepreneur, Warren B. Kanders turns 66… Real estate developer and philanthropist, Sylvan Adams turns 65… Special assistant to NYC Comptroller Brad Lander, Pinchus Hikind… President of an eponymous auctioneering firm specializing in the appraisal and sale of antique Judaica, Jonathan Greenstein turns 56… Managing director for national affairs at AIPAC, Elliot Brandt… Actress, best known for her roles on "All My Children" and "General Hospital," Alla Korot turns 53… Principal at Calabasas, Calif.-based CRC-Commercial Realty Consultants, he is a vice-chair of the real estate and construction division of the Los Angeles Jewish Federation, Brian Weisberg… Israeli director, screenwriter and actress, Dikla Elkaslassy turns 44… Former member of the Knesset, she is the first Ethiopian-born woman to hold a Knesset seat and the first to serve as a government minister, Pnina Tamano-Shata turns 42… Associate in the D.C. office of Gibson, Dunn & Crutcher, Clare F. Steinberg… Israeli video blogger, journalist and business executive, Idan Matalon turns 35… Chief advancement officer at The Leffell School in Westchester County (N.Y.), Annie Peck Watman… Reporter for CNN, Marshall J. Cohen… Law clerk at the U.S. Court of Appeals for the Seventh Circuit, Mitchell Caminer… Pitcher for Team Israel, he became an Israeli citizen in 2018 so that he could play for Israel in the 2020 Olympics, Gabe Cramer turns 29… Derek Brody… Actor since childhood, Max Burkholder turns 26…