Daily Kickoff
November 16, 2023
Good Thursday morning.
In today's Daily Kickoff, we report on a call from Virginia's attorney general, Jason Miyares, for universities in the commonwealth to address antisemitism, and look at growing calls to cut funding to schools nationwide that don't do so. Also in today's Daily Kickoff: Opposition Leader Yair Lapid, Tammy Murphy and Lawrence Summers.
There's a tendency in modern political coverage to overstate the impact of the loud extremes, and ignore the silent but imposing majority of the American public, Jewish Insider Editor-in-Chief Josh Kraushaar writes. It's why lawmakers like Rep. Alexandria Ocasio-Cortez (D-NY) and Marjorie Taylor Greene (R-GA) draw outsized attention, despite their lack of legislative influence.
That distortion, fueled by social media, has been especially apparent when it comes to analyzing public opinion toward Israel. If you live in the online world, you might think that most Americans are against Israel's right to defend itself against terrorism. If you live on a college campus, you might conclude that there's widespread support for Hamas.
One of the great correctives of Tuesday's March for Israel, where nearly 300,000 pro-Israel supporters from across the country packed the National Mall, is that real life is not the same as virtual reality. It served as a reminder that the alarming videos we see so often in our social feeds, while very concerning as a barometer of what's being taught in our top schools, are far from representative of the views of the overall American public.
Polling is the best tool we have to separate the noise from the news — and public opinion has consistently been decidedly in favor of Israel. Indeed, one of the newest surveys, conducted by YouGov between Nov. 8-9, shows just how widespread support for Israel really is at this volatile moment.
The survey found that more Americans sympathize with the Israelis than the Palestinians by a lopsided margin, 37-15%. An additional 27% said they sympathize with both sides. Among most demographic groups, significantly more respondents said they sympathized with Israel — though the margin among Democrats (27-20%) and younger voters (26-24%) was smaller.
Another new poll, conducted by Marist between November 6-9, also shows a similar dynamic. A sizable 55% majority of respondents believe Israel's response against Hamas has been appropriate (38%) or has been "too little" (17%), while 38% think Israel's military response against Hamas has gone too far.
The poll shows far more Americans sympathizing with the Israelis (61%) than the Palestinians (30%), though it finds that Democrats are equally divided at 45% apiece. Unlike the YouGov poll, this survey didn't offer an option to side with both.
And a new Fox News poll, conducted between November 10-13, found the advantage for Israel even more one-sided. Two-thirds (66%) sided more with the Israelis, with just 22% with the Palestinians. Sixty percent support sending military aid to Israel, while just 37% oppose it.
Big picture: The clear majority of Americans favor Israel, but the opposition is concentrated among a young, progressive constituency that has outsized visibility — in urban centers, campuses and even some newsrooms. That degree of cultural purchase is why the extremes seem so powerful, even if they are badly outnumbered at the ballot box.
Another newly released poll, commissioned by the non-partisan Jewish Electorate Institute, found strong support for President Biden within the Jewish community. The poll was conducted between November 5-9 by GBAO Strategies.
Among American Jews, Biden's job approval rating is 66% — much higher than his approval within the overall population. Nearly three-quarters of Jewish voters (74%) approve of his handling of the war between Israel and Hamas. Biden led Trump, 68-22%, in a rematch against former President Trump.
The poll also found that most Jews have a deep emotional attachment to Israel, with over half (51%) saying they're "very attached" and another 31% saying they're "somewhat attached."
Meanwhile in Israel, Opposition Leader Yair Lapid last night called for Prime Minister Benjamin Netanyahu to resign immediately, Jewish Insider's Lahav Harkov reports. After previously saying he "won't get into it while our soldiers are in Gaza," Lapid told Israel's Channel 12 that "Netanyahu has to go now because we cannot allow ourselves — for security, for society — [to have] a prime minister that lost the public's trust."
On X, Lapid called for a "rehabilitation government" without Netanyahu that would also exclude "the extremists" — which a Lapid spokesperson confirmed to us was a reference to National Security Minister Itamar Ben-Gvir and Finance Minister Bezalel Smotrich's Religious Zionist faction. Read the full story here.
gaza war: day 41
Initial IDF search of Al-Shifa Hospital reveals Hamas weapons, intelligence materials, military equipment
Israeli soldiers continued to search the area in and around Al-Shifa Hospital in Gaza City on Thursday, a day after the army revealed what it said was an operational command center that included a cache of weapons, intelligence materials and military equipment uncovered in the medical campus' MRI building, Jewish Insider's Ruth Marks Eglash reports.
IDF findings: Lt. Col. (res) Jonathan Conricus, the IDF's spokesman for the foreign press, showed reporters on Wednesday a video of a collection of AK-47 rifles, ammunition, body armor, uniforms and operational guides he said belonged to Hamas that were discovered hidden behind an MRI machine. As he took viewers through the clinic, Conricus pointed out that CCTV cameras had been blacked out and at least one computer containing intelligence information was found.
Hostage deal: Meanwhile, unconfirmed reports in local and international media today said that a deal was underway to free some of the estimated 240 hostages held by Hamas since its brutal surprise terror attack in Israel on Oct. 7.
In Jerusalem: Six Israeli security personnel were wounded today, one critically, in a shooting attack at a West Bank checkpoint south of Jerusalem. The three assailants were all killed at the scene, the Israel police said.
Bonus: A BBC crew goes inside Al-Shifa Hospital with the IDF to view what the army found at the site.
exclusive
Virginia AG calls for 'decisiveness and moral clarity' at universities in response to antisemitism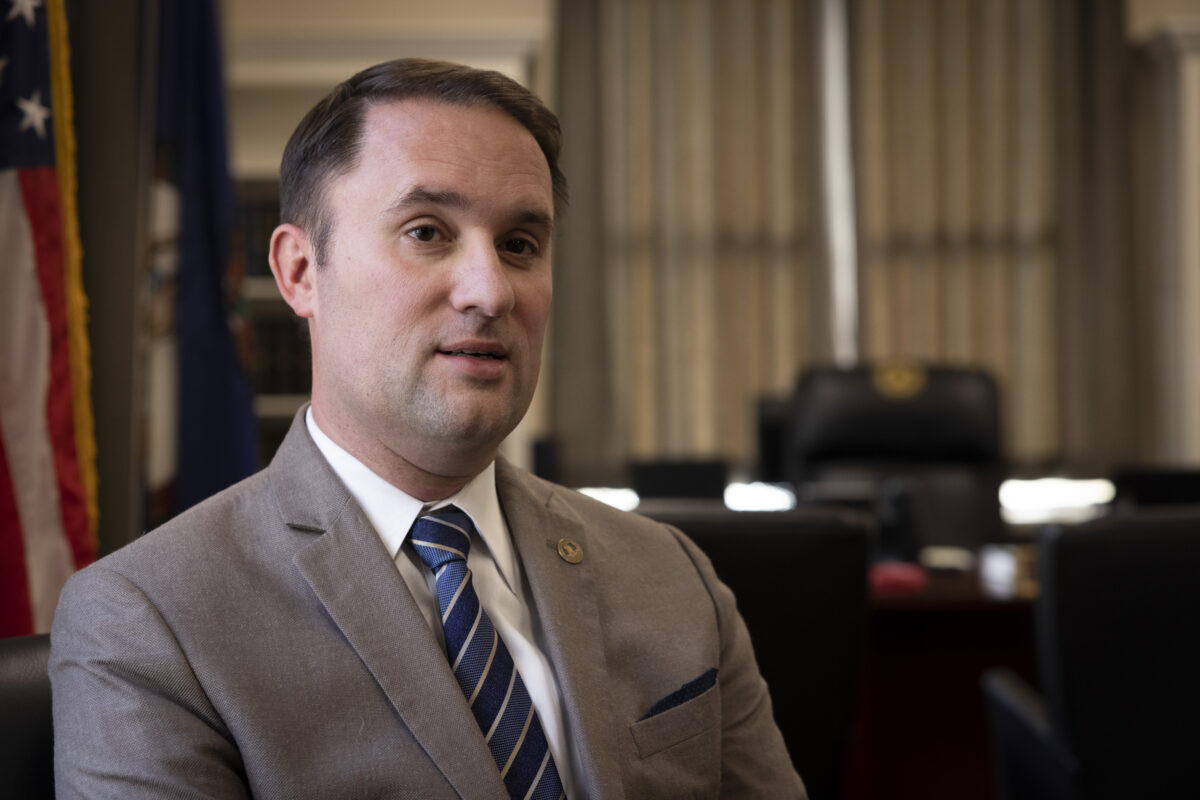 Virginia's attorney general sent a letter today to college and university presidents in the state, urging them to "do more to address antisemitism," according to a copy of the letter shared exclusively with Jewish Insider's Gabby Deutch.
New path: Calling for "decisiveness and moral clarity," Attorney General Jason Miyares, a Republican, addressed how university administrators in Virginia can grapple with rising antisemitism while also taking free speech concerns into account. It offers a different path from the one taken by Florida Gov. Ron DeSantis, who sought to ban campus chapters of Students for Justice in Palestine but met resistance from university presidents questioning the constitutionality of the move.
First Amendment voices: "I would urge you to discover your own First Amendment voices," wrote Miyares. "We need leaders with moral clarity, not leaders who shirk the responsibility of calling out bigotry and antisemitism." To make his point, Miyares referred to a political touchpoint that will surely hit home for Virginia educators: the deadly 2017 Unite the Right rally in Charlottesville. "In 2017, virtually every college president in Virginia rightly condemned the 'Unite the Right' rally in which bigots marched through campus shouting antisemitic statements. We weekly confront the equivalent of multiple 'Unite the Right' rallies across this nation, including in Virginia," Miyares wrote. "Your deafening silence in 2023 following your unhesitating condemnation in 2017 has not gone unnoticed."
Bonus: The Republican Attorneys General Association adopted a resolution calling on state officials to "to use the legal tools at their disposal to investigate and, where applicable, prosecute organizations within their jurisdictions that provide aid or funding to Hamas or other organizations which provide support to terrorists."
threat environment
Large majority of post-Oct. 7 threats in the U.S. have targeted Jews, FBI director says
FBI Director Christopher Wray testified yesterday that the majority of reported post-Oct. 7 threats within the U.S. relating to the conflict in the Middle East have targeted the Jewish community. "The biggest chunk of the threats that have been reported to us, by a good margin, are threats to the Jewish community," including synagogues and prominent Jewish officials, Wray said in a House Homeland Security Hearing, Jewish Insider's Marc Rod reports.
Hamas effect: Christine Abizaid, the director of the National Counterterrorism Center, said that the Hamas attack has inspired a range of "ideologically diverse array of threat actors" across the globe, while Hamas' own focus has remained in the Middle East. Within the U.S., Abizaid said that the intelligence community is more concerned about lone actors in the U.S. being inspired by foreign terror groups to attack Jewish, Arab and Muslim communities, rather than direct attacks by such terrorist groups.
money matters
Lawmakers move to cut federal funding to colleges over antisemitic activity, push for federal probes of SJP and AMP
In response to growing antisemitic activity, including threats, harassment and intimidation of Jewish students on college campuses, House lawmakers on Wednesday moved to cut federal funding to schools that don't respond forcefully to such activity, as well as floated investigations of groups involved with anti-Israel campus demonstrations, Jewish Insider's Marc Rod reports.
Taxpayer funds: "It's far past time to do something about it… why would we continue to fund these universities with taxpayer dollars?" Rep. Mike Kelly (R-PA) said at a hearing of the House Ways and Means Committee, a proposal echoed by several colleagues. "It is beyond anything I can grasp anymore. Because I wasn't raised this way. What in the heck is wrong with these people?"
Amendment vote: The House approved an amendment to the Labor, Health and Human Services Appropriation bill on Wednesday that would implement a similar policy, banning funding any institution that "authorizes, facilitates, provides funding for, or otherwise supports" events promoting antisemitism on campus. The amendment by Rep. Mike Lawler (R-NY) was approved by a 373-54 vote, with 53 mostly progressive Democrats and Rep. Thomas Massie (R-KY) in opposition.
Federal probe: At the urging of witnesses, lawmakers on both sides of the aisle expressed interest in pushing the FBI and Internal Revenue Service to investigate the funding sources of groups like Students for Justice in Palestine, which has organized many of the campus protests, and American Muslims for Palestine, which has ties to SJP. They said they also wanted to probe ties between the groups and Hamas.
Bonus: In the New York Post, former Miami Beach Mayor Philip Levine calls for an accounting of billions of dollars in foreign funding received by American universities.
cease-fire coalition
Twenty-four House Democrats call for a ceasefire, accuse Israel of 'grave violations against children'
A group of 24 House Democrats called for a ceasefire in Israel's war with Hamas, and accused Israel of "grave violations against children" in a letter to President Joe Biden on Thursday, Jewish Insider's Marc Rod reports.
What it says: The letter, led by left-wing Reps. Alexandria Ocasio-Cortez (D-NY), Betty McCollum (D-MN) and Mark Pocan (D-WI), states that the lawmakers are "profoundly shocked by the grave violations of children's rights," and raises concerns about strikes on schools, "refugee" camps and residential and civilian buildings, and shutdowns of medical facilities in Gaza. It warns that the current U.S. posture risks a broader regional war and that current U.S. humanitarian efforts are ineffective and may "undermine the United States' own credibility."
Not included: The letter does not acknowledge or address Hamas' use of human shields in Gaza or its stationing of rocket launch sites, other military capabilities and personnel inside civilian locations, including schools and refugee camps, or reports that Hamas has prevented the provision of aid to hospitals and stopped civilians from fleeing violence. It does not mention the ongoing Hamas rocket attacks on Israel or directly call on Hamas to release its hostages. It does offer "unequivocal condemnation" of Hamas' Oct. 7 attacks and hostage-taking and alludes in broad terms to bans in international law on "recruitment and use of children, abduction of children, and denial of humanitarian access."
Who's new: The supporters of a ceasefire remain largely confined to far-left lawmakers who've been critical of Israel in the past, but the latest call includes several members — Reps. Betty McCollum (D-MN), Mary Gay Scanlon (D-PA), Raul Grijalva (D-AZ) and Hank Johnson (D-GA) — who had stopped short of calling for a ceasefire thus far. Rep. Don Beyer (D-VA) separately released a statement calling for "negotiations seeking a deal on a ceasefire in exchange for the release of hostages."
Bonus: Republicans condemned the administration's decision to extend sanctions waivers for Iraqi purchases of electricity from Iran. Senate Foreign Relations Committee Ranking Member Jim Risch (R-ID) called the move "tone deaf to Iran's support for [Hamas] in Gaza and global terrorism. There are alternatives for Iraq. Why hasn't the admin pushed to get these energy projects completed?" Sen. Tom Cotton (R-AR) called it "appeasement [that] only emboldens the Iranian regime."
Elsewhere on the House side: Rep. Jerry Nadler (D-NY) led six fellow House Democrats in calling for the Department of Justice to pursue criminal prosecutions of the Hamas terrorists involved in killing U.S. citizens on Oct. 7.
garden state race
Tammy Murphy kicks off campaign for Senate in New Jersey
Tammy Murphy, the first lady of New Jersey, launched her campaign to replace embattled Sen. Bob Menendez (D-NJ) on Wednesday, setting the stage for a competitive primary that now includes two formidable challengers. Murphy, a first-time candidate whose bid had been widely expected, enters the race as a frontrunner, thanks to her statewide profile, fundraising prowess and relationships with Democratic Party leaders in New Jersey whose endorsements could influence favorable ballot placement in next year's election, Jewish Insider's Matthew Kassel reports.
Israel stance: Jewish and pro-Israel activists in the Garden State say Murphy has a strong command of foreign policy and would be an outspoken supporter of Israel if she is elected, pointing to her multiple trips to the Jewish state and frequent engagement with Jewish communal leaders during her five years as first lady. Most recently, Murphy, whose father, Edward Snyder, was Jewish, gave remarks at a community event organized by Chabad of the Shore in Long Branch, just days after Hamas' Oct. 7 terror attack in southern Israel. "We have all seen the horrific videos recorded by the perpetrators themselves and we've heard the harrowing first-hand accounts," Murphy told the crowd. "Hamas must cease to exist."
Worthy Reads
Crimson Concerns: In the Washington Post, former Harvard President Lawrence Summers, calling antisemitism a "cancer," calls on universities to act to excise it from campuses. "Double standards are unacceptable. I believe, however, that those of us concerned with prejudice against Jews make a grave mistake if we embrace the approach of identity politics and seek only to be an equally recognized identity. Excesses of identity politics have harmed the academy by denigrating intellectual excellence, interfering with open debate and inhibiting the unfettered search for truth. Double standards must be avoided, but the right approaches center on universal principles, not group-specific policies. Our approach must instead be an insistence on seeing past false equivalence to moral clarity as a central component of education. Make no mistake. To do otherwise is not to have antisemitic intent. But it risks antisemitic effect." [WashPost]
Hate at Home: In The Wall Street Journal, Joel Engel reflects on the surge in antisemitism in the U.S. since the Oct. 7 attacks. "There isn't an American Jew I know whose worldview wasn't trampled by the anti-Semitism that has been displayed in this country with such fervor and pride since the barbaric attacks in Israel on Oct. 7. Millions more Americans than we ever imagined consider us less than human and would like to see us dead. That's a lot to deal with so suddenly and unexpectedly. Every conversation I've had with American Jews since then has eventually reached the point of trying to describe accurately this sudden and now unrelenting anxiety and unease none of us had felt before, which all of us agree is located deep in our kishkes, suggesting it's epigenetic in origin: an inherited memory of the Holocaust and all the lesser pogroms that preceded it that we didn't know we were carrying." [WSJ]

Politics and Prose: The Atlantic's George Packer considers the challenges of combining political speech and art. "It seems natural for creative people to speak out at a time of crisis. We look to them for words and images that provide clarity and inspiration and consolation — for truth. But in practice this expectation turns out to be perverse. Instead of bringing their special talents — imagination, an ability to sustain competing thoughts and articulate them with nuance, a knowledge of complex history, a sense of tragedy and common humanity — to a subject like Israel and Palestine, writers and artists are more likely to abandon their qualifications at the threshold of a political controversy. Upon entering, they begin speaking in a characteristic tone of outraged conscience. They indulge in rhetorical excesses and resort to euphemisms and omissions that amount to outright lies. They use the passive voice and abstract language to gloss over the killing of children on one side or the other. They ignore any facts that taint their purity of belief. They squarely refuse to face the trade-offs and dirty compromises that politics requires. They avoid the devilish question that a sense of responsibility should require them to ask: What would I do if I had real power? This question always has a dissatisfying, even tragic, answer — so it disappears in the glare of moral certainty." [TheAtlantic]
Around the Web
Violent Protest: An anti-Israel protest outside the Democratic National Committee's headquarters turned violent, with six police officers sustaining injuries and one demonstrator being arrested for assaulting an officer; elected officials inside the building had to be evacuated by security personnel.
Wavering on Visa Waiver: The U.S. warned Israel that it is violating the terms of the Visa Waiver Program, to which it was admitted in September, by not allowing Palestinian Americans in the West Bank to travel into Israel following the Oct. 7 attacks.
Turtle Bay Take: The U.S. abstained from a U.N. Security Council vote calling for "urgent and extended humanitarian pauses and corridors throughout the Gaza Strip," Jewish Insider's Gabby Deutch reports, the body's first successful attempt to address the Israel-Hamas war.
Sullivan's View:Puck's Julia Ioffe interviews National Security Advisor Jake Sullivan about Ukraine and Israel — and his comments about a period of relative calm in the Middle East, made shortly before the Oct. 7 attacks.
TikTok Effect:The Guardiandeleted a 21-year-old screed by Osama bin Laden explaining the mindset behind the 9/11 attacks — including naming U.S. support for Israel as an impetus for the attacks — after the text went viral on TikTok.
Lighting Up: Sen. Tom Cotton (R-AR) echoed concerns from House members about the administration's menthol cigarette ban, which he said could create "a huge black market for Mexican cartels and Hezbollah."
He's Running: Ret. Col. Eugene Vindman, a former deputy legal advisor for the United States National Security Council, announced a bid for Congress in Virginia's 7th district, following Rep. Abigail Spanberger's (D-VA) announcement that she is leaving Congress to pursue a gubernatorial run.
Cease-fire Comments: Rep. Jamaal Bowman (D-NY) is facing criticism for comments in which the New York legislator, who is not Jewish, defended his calls for a cease-fire by saying he was "uplifting deeply what it actually means to be Jewish."
Secret Group: A Facebook account belonging to Rep. Rashida Tlaib (D-MI) was discovered to be a member of a group on the platform where users glorified Hamas; a screenshot indicates Tlaib has been a member of the Facebook group for six years.
Musky Comment: X owner Elon Musk appeared to agree with a user on the platform who alleged that Jews are pushing "dialectical hatred against whites," responding that the user has "said the actual truth."
Digital Dilemma: Antisemitic and Islamophobic content on the internet surged in the days following the Oct. 7 attacks, according to a new report from the Anti-Defamation League.
Campus Beat: Hundreds of Columbia University students protested the administration's decision to temporarily suspend the campus chapters of Students for Justice in Palestine and Jewish Voice for Peace over violations of university policies.
Teacher Trouble: The head of a Los Angeles charter school apologized for the behavior of a first-grade teacher who posted on social media that she taught students about the "genocide of Palestine" and complained about the presence of an Israeli flag at the synagogue that housed the school; the teacher has since been removed from the classroom.
Across the Pond: At least three Labour shadow ministers have quit over party leader Keir Starmer's opposition to a cease-fire and support for Israel during the war with Hamas.
Shifa Strategy: Commentary's Seth Mandel opines that Israel's strategic approach to Al-Shifa Hospital provides a legitimate counter to claims of indiscriminate attacks.
New Beginning: The New York Times looks at nascent, localized coexistence efforts being undertaken by a new generation of Israelis and Palestinians.
Ishbia's Eyeline: The Wall Street Journal looks at the big bets being made by Phoenix Suns owner Mat Ishbia, who heads mortgage lending company UWM Holdings, both on the court and in the business world. 
Drone Denial: Iran's foreign minister distanced Tehran from a recent drone attack in the Red Sea targeting an American vessel that was believed to have been connected to the Iran-backed Houthis in Yemen.
Nuclear Watch: A quarterly report from the U.N.'s nuclear watchdog found that Iran is continuing to expand its nuclear program as it refuses to settle outstanding disputes over issues including the presence of inspectors in its facilities.
On the Turning Away: Hotels in Argentina and Uruguay reportedly refused accommodations to Roger Waters over accusations that the former Pink Floyd frontman is a vocal proponent of antisemitic tropes.
Terror in Tokyo: A Japanese man was arrested for driving his car through a security barrier outside Israel's Embassy in Tokyo.
Leadership Lesson: The New York Times spotlights David Zaslav's time atop Warner Bros. Discovery, describing him as being at the "center of one of the most tumultuous periods in the history of the entertainment industry."
Remembering: Sculptor Phillip Ratner, who opened the Israel Bible Museum and whose works have been displayed on Ellis Island and at institutions around Washington, D.C., died at 86.
Pic of the Day
Hundreds of people, led by the families of hostages being held in Gaza, gathered this morning at the beginning of the third day of the five-day march to Jerusalem, where they plan to demonstrate in front of the Prime Minister's Office.
Birthdays
After 15 seasons in the NBA, he became an owner and player for Hapoel Jerusalem and led the team to an Israeli League championship, Amar'e Yehoshafat Stoudemire turns 41…
Retired justice on the Supreme Court of Canada, Morris Jacob Fish turns 85… Professor of mathematics and statistics at Concordia University in Montreal, Abraham J. Boyarsky, Ph.D. turns 77… Milwaukee-based founder and co-managing director of A.B. Data, Ltd, Bruce A. Arbit turns 69… Manager of HR and operations at IKAR, Susan Brooks… Writer and producer for television and film, Jeff Pinkner turns 59… Executive director of the Republican Jewish Coalition, Matt Brooks turns 58… SVP of national programs at the Shalom Hartman Institute of North America, Rabbi Justus Baird turns 51… Israeli singer-songwriter, author and travel documentarian, known professionally as "Passerby," Gilad Segev turns 49… Author of several novels, he was the book columnist for the Washington Post until 2022, Lavie Tidhar turns 47… SVP at The D. E. Shaw Group, Michael A. Levi turns 46… 1994 Olympic gold medalist in figure skating, she first discovered that she was Jewish when she was 25 years old, Oksana Baiul turns 46… Stage, film and television actress, Margalit Ruth "Maggie" Gyllenhaal turns 46… Israeli actress, model, film producer and TV host, Adi Ezroni turns 45… VP at Jetro Restaurant Depot, he is a former NFL placekicker and punter, Hayden Scott Epstein turns 43… Snowboarder for the U.S. Olympic team in 2014 and 2022, he competes in the halfpipe, Taylor Gold turns 30… Chief of staff at Lightricks and a former adviser to Israeli ministries, Aaron Kalman…