exclusive
Virginia AG calls for 'decisiveness and moral clarity' at universities in response to antisemitism
Attorney General Jason Miyares, a Republican, sent a letter to university leaders, laying out a path toward clear condemnation of antisemitism without violating First Amendment protections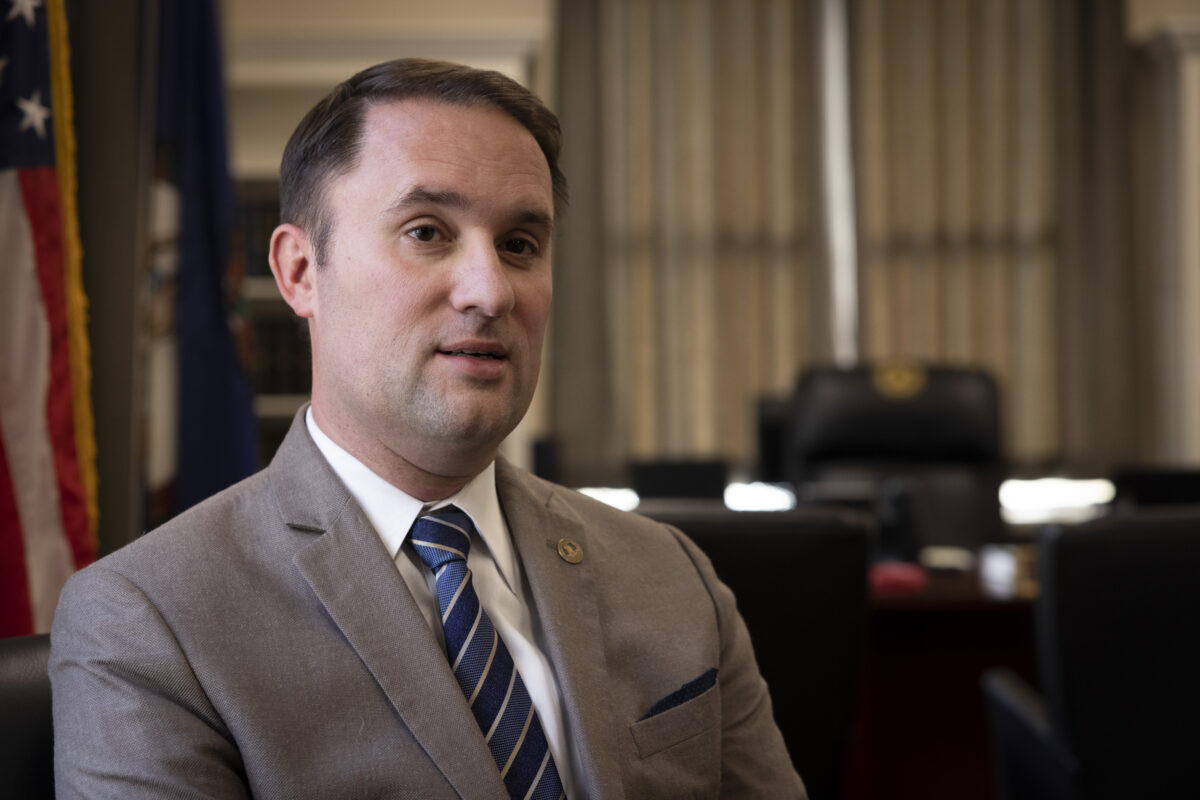 Julia Rendleman for The Washington Post via Getty Images
Virginia's attorney general sent a letter today to college and university presidents in the commonwealth, urging them to "do more to address antisemitism," according to a copy of the letter shared exclusively with Jewish Insider.
"Countless Virginia students of Jewish backgrounds feel threatened and unsupported in today's climate on our college campuses," wrote Attorney General Jason Miyares, a Republican. "This is unacceptable."
Calling for "decisiveness and moral clarity," Miyares addressed how university administrators in Virginia can grapple with rising antisemitism while also taking free speech concerns into account. It offers a different path from the one taken by Florida Gov. Ron DeSantis, who sought to ban campus chapters of Students for Justice in Palestine but was met with resistance from university presidents questioning the constitutionality of the move.
"I would urge you to discover your own First Amendment voices," wrote Miyares. "We need leaders with moral clarity, not leaders who shirk the responsibility of calling out bigotry and antisemitism."
Miyares referred to a political touchpoint that is likely to hit home for many Virginia educators: the deadly 2017 Unite the Right rally in Charlottesville. He noted university administrators' relative silence since the Hamas terror attack on Oct. 7, and in particular in the aftermath, as antisemitic incidents have become increasingly common on college campuses.
"In 2017, virtually every college president in Virginia rightly condemned the 'Unite the Right' rally in which bigots marched through campus shouting antisemitic statements. We weekly confront the equivalent of multiple 'Unite the Right' rallies across this nation, including in Virginia," Miyares wrote. "Your deafening silence in 2023 following your unhesitating condemnation in 2017 has not gone unnoticed."
The letter discussed how free speech protections might apply on campuses — and where those protections end, as many university administrators have said that academia's commitment to free expression limits where they can get involved in policing post-Oct. 7 speech.
"The First Amendment does not protect speech that is directed to inciting or producing imminent lawless action, and which is likely to incite or produce such action," wrote Miyares. He added that university leaders should review their policies to be sure they are protecting students "from unlawful incitement beyond the bounds of the First Amendment."
Miyares also pointed out that "the right to freedom of speech does not shield individuals who commit crimes from prosecution." He urged universities to hold students accountable for assaults or acts of vandalism, and he noted that Virginia law prohibits adults from concealing their identity with a face mask when in public, except in cases of medical necessity. Lastly, he wrote that universities may treat demonstrations differently when they are initiated by outside individuals not affiliated with the university.
The University of Virginia chapter of Students for Justice in Palestine described the Hamas' Oct. 7 terrorist attack as "an unprecedented feat for the 21st century," and said that "resistance fighters in Gaza" had broken through an "illegal border fence" and taken "occupation soldiers hostage." Videos of students at George Mason University tearing down posters of the Israeli hostages have gone viral.
In October, Miyares launched a charity fraud investigation into American Muslims for Palestine, a nonprofit affiliated with Students for Justice in Palestine, citing the group's possible terror ties. A spokesperson for Miyares confirmed that the investigation remains ongoing. Earlier this year, he set up a statewide antisemitism task force.