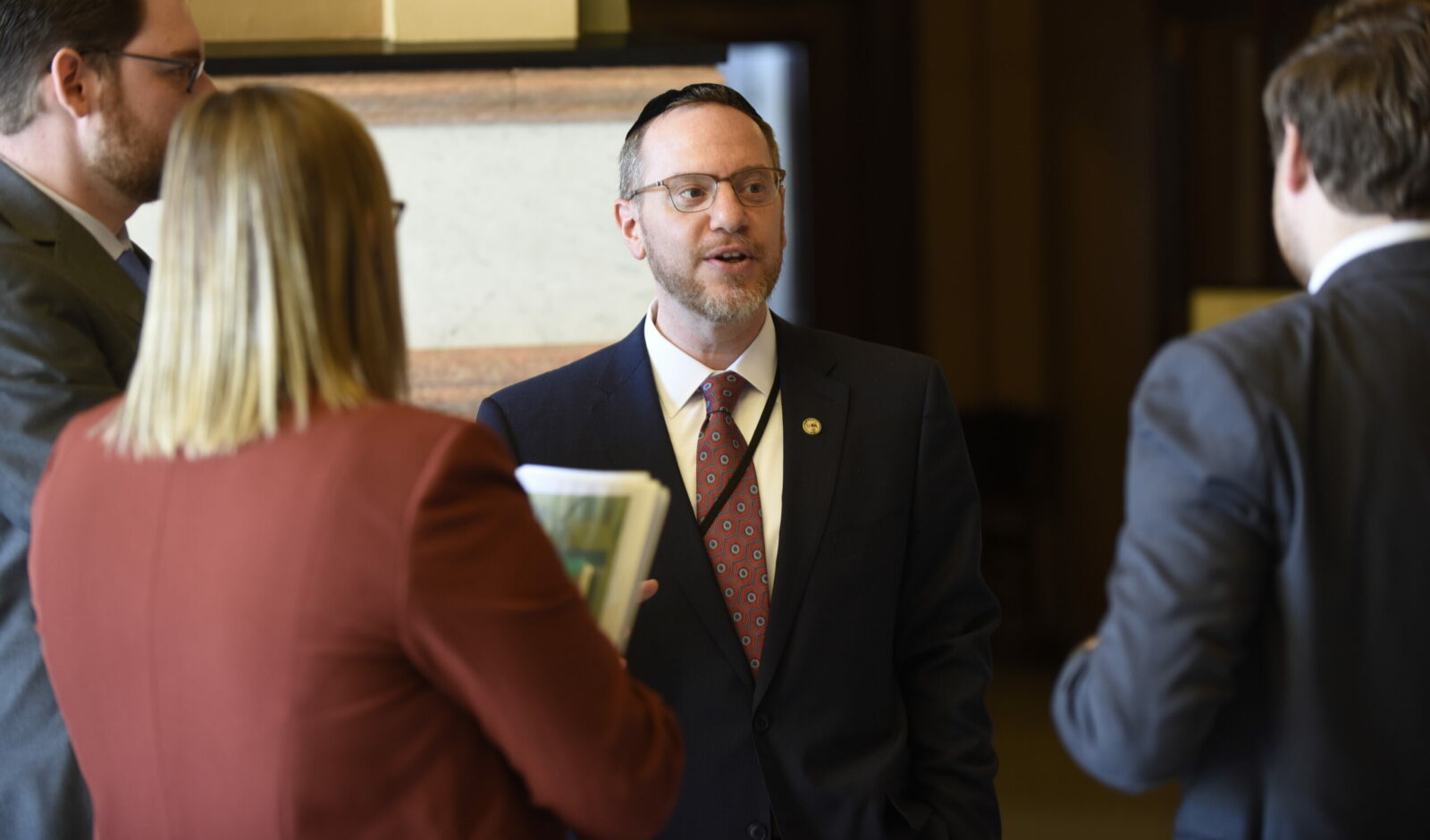 John Berry, Illinois House of Representatives
The rabbi running to defend his Illinois state House seat
'The sense of purpose — to try to represent my community and make a 'kiddush hashem' — is very strong'
Illinois State Representative Yehiel Mark Kalish is no stranger to firsts — he is, after all, the first Orthodox rabbi to serve in the state's lower house — and Tuesday is no exception. As voters across the state head to the polls today, Kalish hopes that Democrats in Illinois's 16th state House district will cast their vote for him as he makes his first formal run for office.
Details: Kalish, 44, was appointed to the seat in January 2019 after former State Rep. Lou Lang announced his resignation just two days before being sworn in. On Tuesday, Kalish faces two progressive challengers — Denise Wang Stoneback, who is backed by Lang and Rep. Jan Schakowsky (D-IL), and Kevin Olickal — both of whom joined the race after Kalish voted "present" against the Reproductive Health Care Act, which established abortion as a fundamental right in the state of Illinois. The GOP is not running a candidate in the general election.
Bio: Kalish, an Orthodox rabbi and a member of Agudath Israel of America's board of trustees, joined Agudath Israel in 2002 as head of the organization's newly created legislative office in Chicago, eventually moving to New York to serve as national director of government affairs. In 2014, Kalish returned to Chicago to open his own lobbying and business consulting firm, the S4 Group. One of 12 Jewish members currently sitting in the state's legislature, he also serves as the cantor of Chicago's Congregation Shaarei Tzedek Mishkan Yair.
Establishment support: Kalish is backed by Michael Madigan, speaker of the Illinois House of Representatives and chair of the state Democratic Party, and the AFL-CIO, the largest federation of unions in the country. He received the endorsement of the Chicago Tribune, which cited Kalish's independence and lack of endorsement from Lang as pluses.
A target of the left: Olickal, who proudly promotes himself as a supporter of Sen. Bernie Sanders (I-VT), targeted the incumbent for his views on abortion in a mailer that was criticized for featuring Kalish in religious attire. In an interview with Jewish Insider, Kalish pushed back against the critics, saying that they are targeting him because they want lawmakers who are "unequivocally supportive of a woman's right to choose without asking questions" or having an independent mind. "They want obedience," he said. "That's not the way I was brought up."
Preserving religious beliefs: While Kalish came under fire for his refusal to support the pro-abortion measure, he voted in favor of pro-LGBTQ legislation. Using talmudic terms, Kalish explained that when it comes to LGBTQ issues, the matter was about protecting them against discrimination, while abortion under certain circumstances can be a capital offense in the eyes of some Jewish legal scholars.
First-time challenge: Kalish described his first race as a "trial by fire," lamenting the "negativity coming towards us… it's definitely been a challenge for me and my entire family," he said. "But the sense of purpose — to try to represent my community and make a 'kiddush hashem' [sanctification of the name of God] is very strong. It's definitely been challenging and rewarding at the same time. So I feel good." Kalish said he hasn't responded to his rivals in a negative manner, choosing instead to focus on his record of accomplishments as a legislator. "In politics, you don't swing down, you only swing up," he explained.
Legislative record: Kalish pointed out that as a member of the education committee that reviews policies and procedures in public schools and charter schools, "my record was 100% in accordance with the public school community," despite his personal support of parochial and private school education. He also highlighted his efforts last year to pass legislation to help sexual assault victims. "I'm very proud that [the victims] can count on me specifically to be there for them, because it's a community that needs protection," he stressed. Other areas of focus for him are mental health and education tax credits, he said.
Diverse district: Kalish told JI that he represents about 2,600 families who are members of the Orthodox Jewish community, out of 108,000 people in the district in the northside of Chicago and Skokie, which includes a large Hispanic and Indian population. "It has been incredible to be able to serve my community at this level, forming policies that are important to me, to the district and my community," he said.
Campaigning during coronavirus: Kalish acknowledged that the current crisis could result in lower turnout, but maintained that the numbers of early voting and absentee ballots are encouraging. Over the weekend, instead of going door-knocking around the district, Kalish said he set up a phone bank in his house and had volunteers going around placing literature on door handles. "We have a whole effort going, but it's definitely different," he said. "I mean, this is my first campaign so I don't know what normal is, but this doesn't seem normal."